the photo bug bites again...
I had the pleasure this past weekend of spending Sunday morning/afternoon out and about in the great outdoors.

I've been itching to get out and do a bit of amateur-ish photography for a while now, and decided that Fort Popham was the place to get it done. I had completely forgotten how close to home that was. A quick drive later, and Sarah and I were exploring the old fort.

It really was a beautiful day outside - the sky couldn't have been a better shade of blue. The few hours we spent together exploring was theraputic to say the least with how hectic life has been lately.

I took something like 200+ photos that day...I'm hoping to get a handful of decent black & whites out of the group.

Here's a small preview :)


A few outdoor shots from a distance: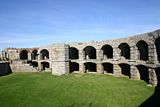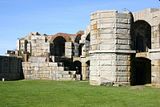 A couple repeating archways: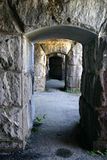 Some of the wider arches:
Wish those signs weren't on the walls - really takes away from the photo :(
I love the sunlight coming through the opening...
This photo almost looks like a drawing done in colored pencil, but is totally the real deal.
My ugly mug :)
And the lovely Mrs. :)



fini!